Dig into our growing variety of sustainably sourced foods. Cornell offers 29 on-campus dining locations. Sustainable food practices are chosen to nourish the community with local, healthy ingredients and stimulate sustainable food systems across New York State.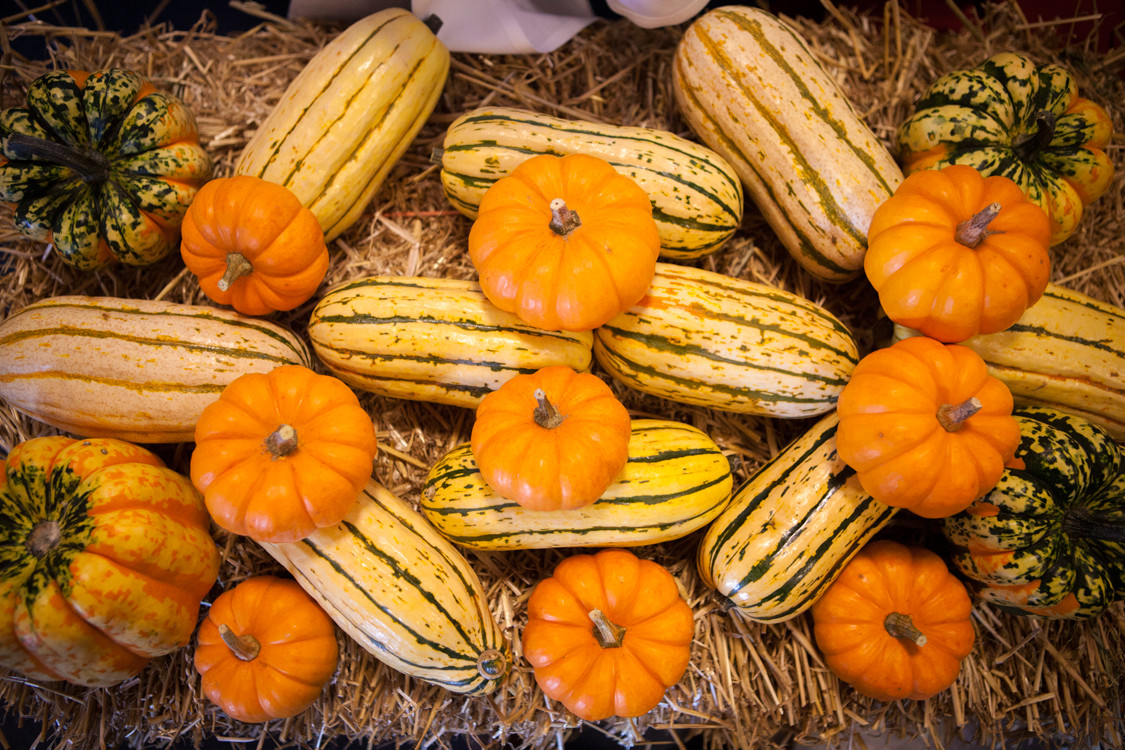 Campus Eateries Sustainable Spotlights:
Science-driven sustenance. Did you know in order to produce one pound of animal protein vs. one pound of soy protein, you need about 12 times more land, 13 times more fossil fuels and 15 times more water? Luckily, these figures provide tasty opportunities to get creative in the kitchen. Join our pledge to eat more delicious plant-based foods during Meatless Mondays. Examples of dishes you might try include fresh broccoli and cashew stir fry, or roasted, herbed potatoes and garlic braised greens.

Student-run Dilmun Hill Farm offers a community supported agriculture (CSA) program.

The Ivy Room, a food court in Willard Straight Hall, features ground beef from local providers. 

All 10 All You Care to Eat (AYCTE) locations provide a complete protein vegetarian or vegan entrée and side dish at the hot traditional station. Some vegan options include quinoa stuffed peppers, Thai chili hummus, or roasted grape tomatoes and summer squash. That local, fresh produce is tempting for our palates and planet! AYCTE locations also offer soy, rice and almond milk as dairy free alternatives.

We are proud to practice trayless dining at 9 out of 10 AYCTE locations, reducing food waste and conserving electricity and water.

Trillium, Martha's Café, Mattins Café, Ivy Room, Risley Dining, Synapsis Café, 104West!, Cornell Dairy Bar, and One World Café all support post-consumer composting. All of our kitchen facilities use pre-consumer composting. Cornell University Agricultural Experiment Station (CUAES) Farm Services handles composting, generating about 7,406 tons per year. We use this nutrient-rich soil to power our farms.

Look out for how-to signs specifying what to toss in compost, recycling, and landfill bins in each campus eatery.

Remember to bring your reusable coffee mug for discounts on certain hot beverage drinks!

Cornell Dining purchases all of the apples from Cornell Orchards as available, and most dairy products from Cornell Dairy.

Cornell Dining has over 20 retail locations. Each location boasts different vegan items on the menu. In the Fall 2014 semester, we added vegan pizzas, vegan quesadillas and vegan pasta bakes to menus at three different retail locations. We also have one retail location, One World Café, where the entire menu offers only vegetarian or vegan options. Examples of vegan options sold at retail operations include: Suzie's Reuben (a vegan sandwich made with vegan cheese and locally produced seitan), the Atrium Vegetable Wrap (local tofu with a carrot, edamame, and cucumber salad on a wrap) and Poblano Small Planet Burger.

Each Fall we host several local harvest dinners across campus.
Explore all of our eateries here.