The Rice Bowls Bioswales
Sustainable Landscapes Trail at Cornell University
In the spring of 2014, an existing chain of three bioswales next to the Rice Hall parking lot were designed and constructed by removing the turf and using a diversity of plants to create a diverse habitat and better use the storm water that flowed from the parking lot.  They were designed to support plants that were adapted to both wet and dry conditions, especially at the bottom of the bioswales. Along the sides and edges of these bowls, more drought tolerant plant material was used.
 Return to Sustainable Landscape Trail Sites Homepage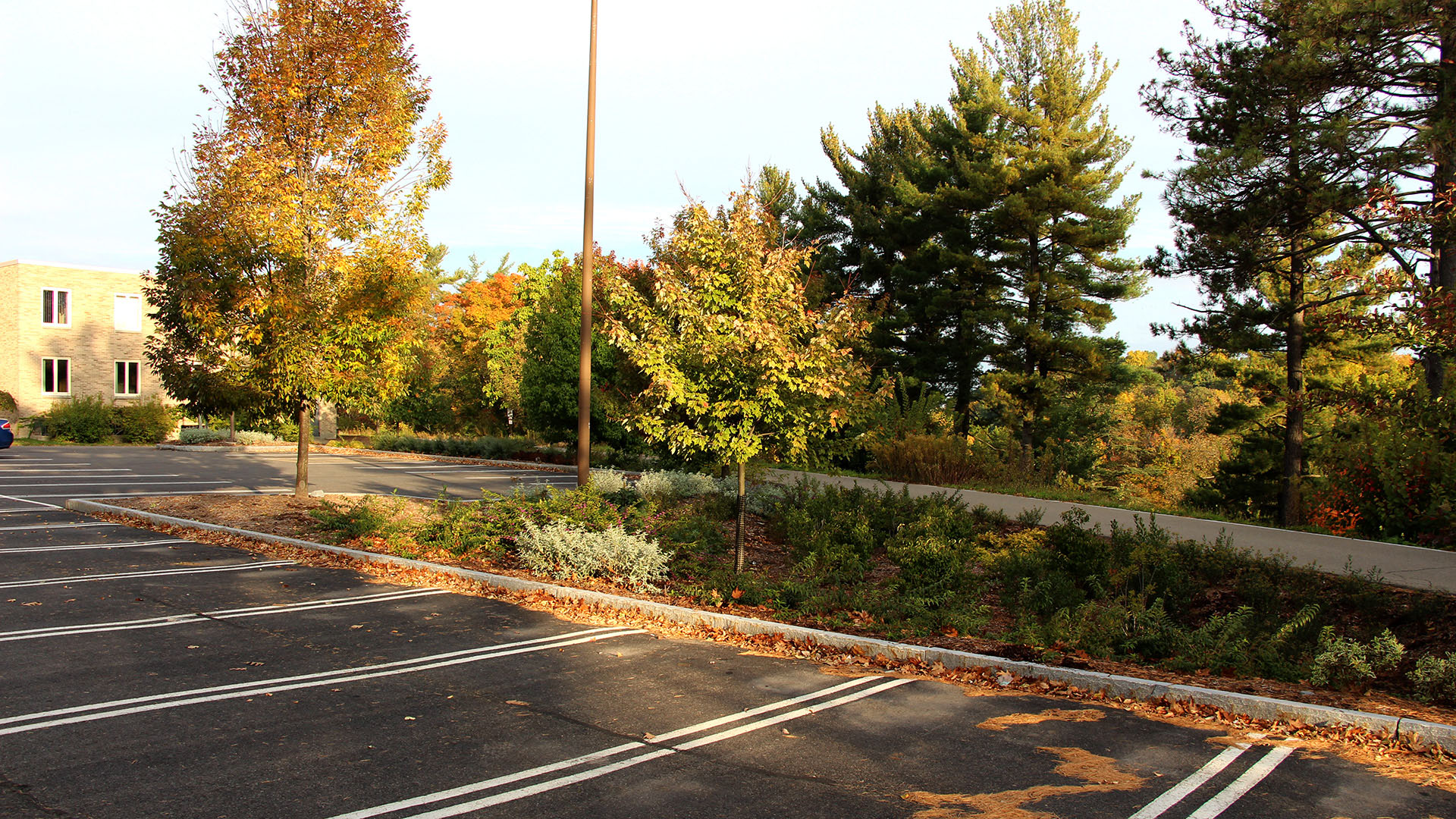 Why is this site sustainable?
Bioswales act as a canopy closure (growth to the point where all soil is shaded by plant cover) within two to three years, in order to reduce weed pressure and the need for maintenance. During winter, these swales act as places for snow storage. In the winter of 2014-2015, snowplows scraped some of the plants off of the sides of the bioswales closest to the parking lot—an indication that woody plants were not an appropriate choice for seasonably vulnerable edges. These plants were replaced with ornamental grasses that die back to the ground and can be trampled in the winter, and grow back from their roots in the spring.
Bioswales slow down stormwater and prevent large amounts of polluted water from from entering storm drains that flow into Cayuga Lake.
Bioswales collect runoff from the adjacent parking lots and allow recharge into the ground while reducing pollution.
Bioswales provide a habitat for woody plants that are adapted to periodic wet and dry soil conditions and require no supplemental irrigation.
Bioswales can be constructed using the 'Scoop and Dump' method to remediate compacted soil, increase infiltration and increase soil health.
These habitats support a wide diversity of plants along with birds and insects.
Aside from the initial snowplow damage, all plants have done well.
Notable successful plants include, Rhus coppalina ( Shining Sumac), Forsythia x intermedia 'Coutasol' (Gold Tide Forsythia), Viburnum prunifolium ( Blackhaw Viburnum),  Perovskia atriplicifolia ( Russian Sage),  Caryopteris X clandonensis ( Blue Mist shrub), Hypericum prolificum ( Hardy St John's Wort) Callicarpa dichotoma (Beautyberry), Salix repens ( Creeping willow) and Salix eleagnos ( Rosemary Willow)  among others.
The bioswale soil was prepared using the 'Scoop and Dump' technique.
More information(pdf)