Sustainability Plan
For the Ithaca, NY campus
The Sustainability Plan is a guiding document to support every department and unit, as well as individual members of the Cornell community, in advancing climate leadership, sustainability efforts in food, water, transportation and more, and collaborating through partnerships with community and global partners to accelerate impact. 
The Sustainability Plan expired in 2018.  Check this page for updates on a new sustainability plan, or other goals and priorities for the campus.
Updating the Plan 
In Fall 2017, a Sustainability Plan Steering Committee began the process of updating the Sustainability Plan. Topics in the draft plan identified as priorities include:
Climate Leadership: Carbon neutrality, climate resiliency, climate literacy

Campus: Buildings & energy, food, land & water, purchasing & waste, transportation, and building a just and equitable community

Education & Engagement: Literacy & education, creating a culture of sustainability, leadership

Living Laboratory: Demonstration, research, and engaged learning

Knowledge Partnerships: Working collaboratively with regional and global partners to accelerate impact
The draft plan update aims to align campus goals with the United Nations Sustainable Development Goals, a set of targets for all nations which address the global challenges we face together, including those related to poverty, inequality, climate, environmental degradation, prosperity, and peace and justice. Learn more about the UN SDGs and how higher education is playing a role in advancing work and solutions to meet them.
---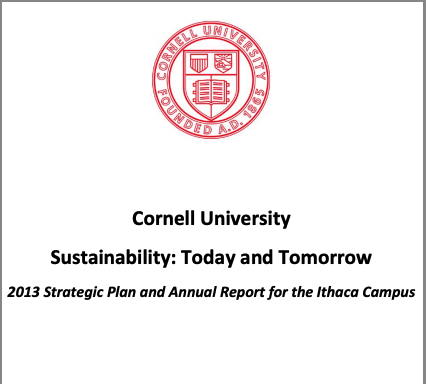 Sustainability Plan (2013-2018)
Sustainability: Today & Tomorrow
The 2013 Sustainability Plan for the Ithaca campus outlines project strategies, governance, and current efforts, including goals and targets for existing sustainability governance groups, grassroots initiatives, and opportunities ahead. 
 
Previous Plans