RecycleMania Competition
Help Cornell win against other Universities in an annual competition to reduce, reuse, and recycle. Our goal? Waste minimization and waste diversion, while enjoying a fun and friendly competition. 
2020 Competition
Competition Dates: February 2nd - March 28th 2020

How to Participate:
Cornell competes in four categories during the competition. Weekly scores released by RecycleMania will show how we rank alongside our peers.

Anyone can participate - just do your part to help reduce waste and sort correctly.  
Looking for more ways to get involved? You can choose to help in one or all of these specific areas Cornell competes in, and learn more about ways to action below:
This Year's Goals:
Goal #1: Reduce Overall Waste
Reduce total waste on campus in all waste streams.

Goal #2: Improve Recycling
Recycle the right materials, every time

Goal #3: Food Waste & Composting
Waste less food, compost food scraps and napkins. 

Goal #4: Electronic Waste
Dispose of electronic goods properly. ​​​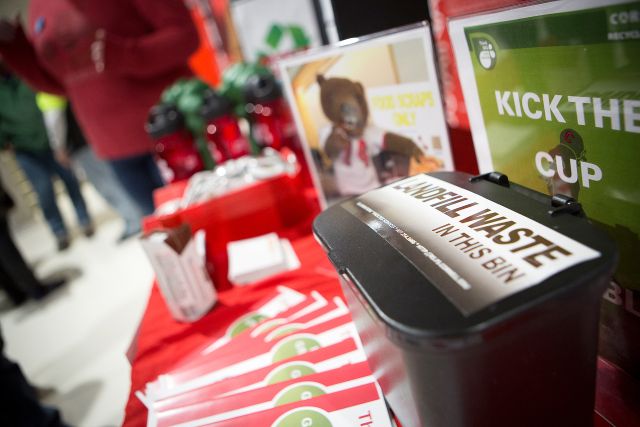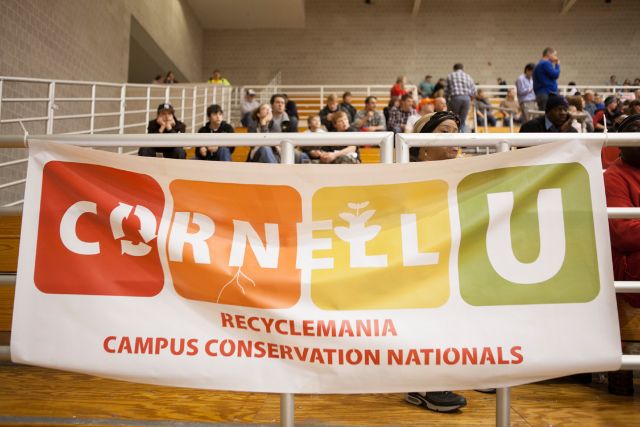 ---
Ready, Set, Recycle!
Here you will find an explanation of each competition area and suggestions for how to take action during the competition:
1. Reduce Overall Waste
Reduce total waste on campus in all waste streams. Our three waste streams on campus include compost or food waste, regular landfill waste, AND recycling. To minimize waste in all of these areas, we need to focus on reducing our overall consumption and reusing materials during the competition.

How to Take Action
Make a commitment to host a zero waste meeting or event.
Encourage your club, class, or unit to bring re-usable silverware to lunch every day this month
Bring your reusable water bottle, mug, and silverware with you every day 
Familiarize yourself with recycling, composting, and re-use centers on campus and in the community and commit to using them for your material needs during the competition. Check out the new Waste Map or learn more about on recycle.cornell.edu.
Look at what you purchase as a team, club, or unit and see if you can eliminate any goods that might be found in one of Cornell's reuse centers. You can use the Sustainability Framework Project Evaluation tools to help weigh the pros and cons of changing your purchasing.
Did you know? Over one million disposable cups are used on Cornell's campus each year. Try bringing a reusable mug (and utensils and containers) when you eat on campus!
2. Improve Recycling 
Recycle the right materials, every time. In this category schools compete to see which can collect the largest combined amount of paper, cardboard and bottles and cans on a per person basis. Do you know the current recycling rules? Make sure you take time to sort your trash correctly, whether it's your own personal waste after lunch or a large group of materials from your dorm, office, or team!

How to Take Action
Learn what the new recycling rules are that went into effect on our campus and why they are happening in our county and across the country this year.
Organize an event for your office or team to understand the new rules - like a trash-sorting competition!
Look for places where you live, study, and work to hang up the posters explaining these changes, and start a dialogue with your building manager or residential staff about replacing landfill and recycling signage with the new, refreshed designs rolling out on campus. 
3. Food Waste & Composting
Waste less food, and compost food scraps and napkins. Compost, donate, and reduce food waste! This category measures our overall food waste from events and dining on campus. When we compost correctly, we can claim a greater diversion of food waste from the landfill, increasing our chances of winning! 

How to Take Action
If you live in on-campus housing, be sure to participate in the Residential Compost Program in your residential community. Composting is available wherever there's a Compost Manager, and your Residence Hall Director / House Assistant Dean can tell you who your Compost Manager is if you have questions or want to help out.
Participate in the reusable containers program in Cornell Dining's all-you-care-to-eat locations.
Where you work and study, try to save food waste for composting stations in the dining hall or across campus; find it on the Waste Map. 
Look for ways to reduce food waste when you eat, or when you organize events. 
 
4. Electronic Waste
Dispose of electronic goods properly. Getting rid of a computer, old cords, or batteries? "E-cycleMania" Electronics is a special category that tracks the amount of computers, printers, consumer electronics and eligible materials collected across campus. 

How to Take Action
Date TBD: Participate in Cornell's E-cycleMania electronics recycling event. Members of the Cornell community can recycle their home and office electronics sustainably (and for FREE) by bringing them to the Cornell Recycle Center (251 Solidago Rd).

Accepted: Anything with a cord, such as computers, TVs, microwaves, telephones, cables, extension cords, power strips, printers, monitors, answering machines, fax machines, typewriters, pagers, cameras, VCR/DVD players. Also CDs, remote controls, stereo/tape/record/8 track tape players.
NOT Accepted: Light bulbs, refrigerated devices (e.g. refrigerators, dehumidifiers, air conditioners), batteries, smoke detectors.

Set up a battery collection station in your office or kitchen and regularly return materials to R5
---
About RecycleMania
RecycleMania is a competition and benchmarking tool for college and university recycling programs to promote waste reduction activities to their campus communities. Learn more at Recyclemania.org.

Definitions:
Waste is any object or substance which the institution discards, intends to discard, or is required to discard. Most campus waste is distributed into landfill (trash), recycling, and compost.
Waste Minimization is a process of reducing overall waste over time, including all landfill, recyclables, and compostable materials. This involves redesigning products and/or changing societal patterns concerning consumption and production to prevent the creation of waste.
Waste Diversion is a process of sorting any solid waste that was destined for disposal in municipal waste landfill or incinerator by diverting via recycling, composting, donating, re-selling, or reusing.