Compost and Food Waste
Cornell is committed to reducing food waste through composting, educational programs, and in-house facilities that reclaim organic material, and recover usable meals to reduce food waste. You can take part in food recovery and composting programs where you live and work.
Reducing Our Waste: Campus Efforts
Why should we compost? Turning food scraps and other organic material into compost returns crucial nutrients in the soil, conserving quality and fertility. Composting also promotes the growth of healthy bacteria needed to break down organic matter and lowers our carbon footprint. 
---
Compost Programs
Why should we compost? Turning food scraps and other organic material into compost returns crucial nutrients in the soil, conserving quality and fertility. Composting also promotes the growth of healthy bacteria needed to break down organic matter and lowers our carbon footprint. 
Residential Composting Program
Composting is available in all on-campus residential communities.  Students can apply to become Residential Compost Managers, leaders on-campus overseeing kitchen compost bins within their residential communities and who provide peer-to-peer education on composting practices. Compost Managers empty compost bins weekly, work to reduce food waste contamination, and communicate with residential staff and the Campus Sustainability Office.  
Take Action: Compost your food scraps in residential communities, or join as a volunteer in the Residential Compost Managers program. Encourage others to learn the rules on composting materials and be sure to keep the waste stream sorted properly.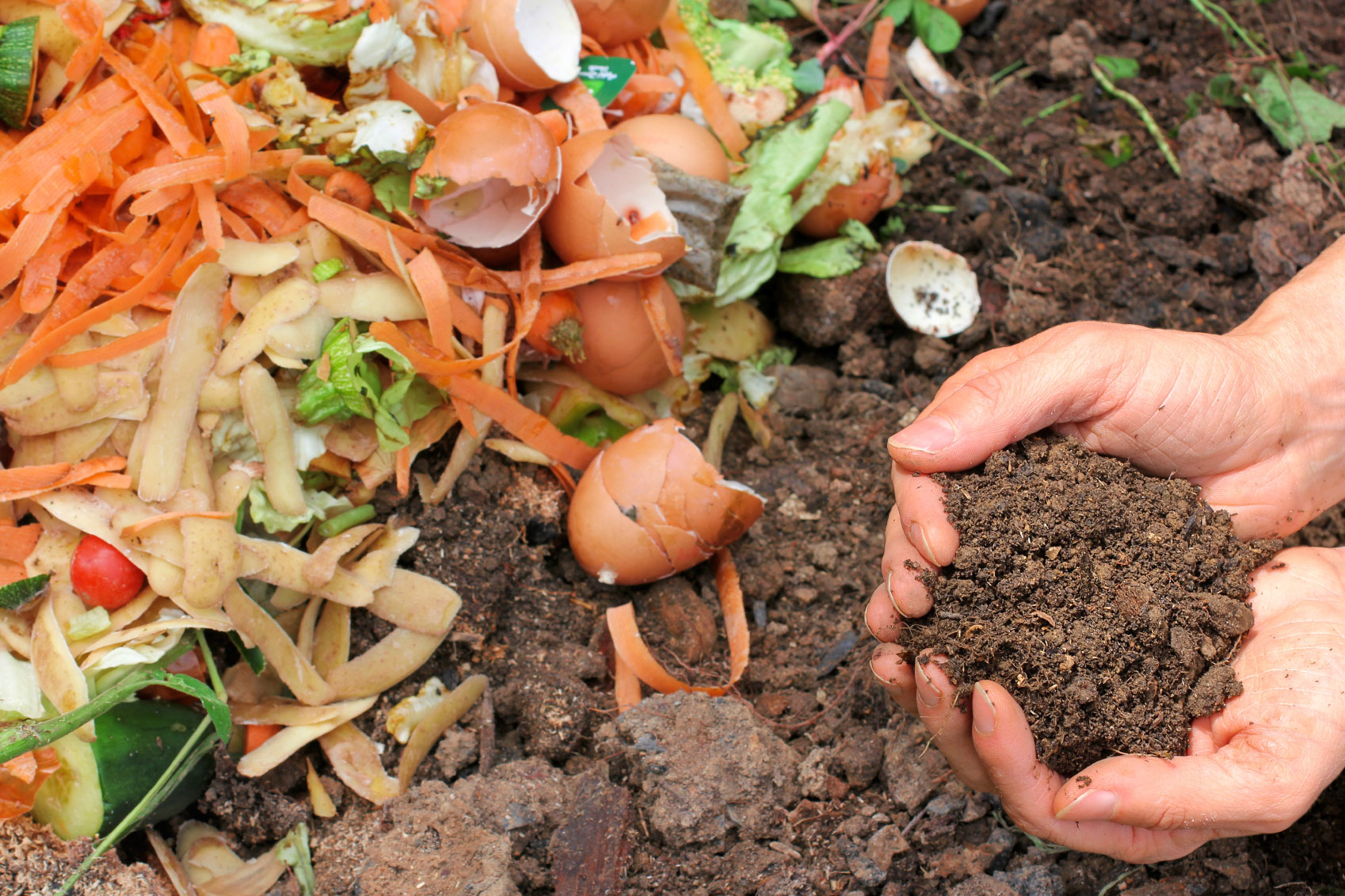 Compost in Dining
Composting bins are located in All You Care to Eat dining rooms, including Trillium, Martha's Café, Mattins Café, Ivy Room, Risley Dining, Synapsis Café, 104West!, Cornell Dairy Bar, and One World Café. Don't worry – there are helpful how-to signs noting what to compost, recycle or toss into the landfill hanging above all waste bins.   Please note that "compostable" serviceware is no longer accepted in any bin on campus or in Tompkins County, due to high contamination rates and a lack of production decomposition.
Take Action: Compost your food scraps at the end of a meal on campus and encourage others to do the same. 
We manage our own compost at Cornell. The Cornell University Agricultural Experiment Station (CUAES) Farm Services manages the compost campus facility, handling 57 waste streams across campus and composting about 3,400 tons of waste per year.
Compost Bins for Events
More information coming soon.
Farm Services Compost Facility
Why does food waste matter?
According to a UN study, food loss and waste impacts are the world's third-largest contributor to climate change, and, the U.S. issues the highest amount of food waste per country with the EPA estimating that more food reaches landfills  than any other material in our everyday trash. When we throw away edible food, we also exacerbate food hungry and insecurity for those in need, and waste precious resources that have gone into the production, fertilization, and delivery of our food and organic material.  
We can reduce food waste, together. 
Two main strategies can help reduce food waste.  Food recovery reduces the waste of edible food, by reducing waste during food preparation and cooking, and reclaiming usable food for those in need. Composting allows food scraps to become usable matter for improving farms, gardens, and for soil. 
---
Food Recovery Programs
Cornell Waste Management Institute (CWMI)

Cornell Food Recovery Network
Food Recovery Chapter at Cornell
The Cornell Chapter of the Food Recovery Network reduces dining food waste and tackles hunger by donating surplus meals from Cornell's dining halls to local food pantries.   The FRN began recovering food from Becker House Dining Hall in 2014. Surplus meals from the dining hall are donated to the local Friendship Donation Network, where they are redistributed to pantries all over the county. Students and others are welcome to volunteer and help with food recovery efforts.  Details are available on the FRN website.
---
Take Action: Planning Your Events
You can help reduce food waste by ensuring you purchase the appropriate amount of food for your event, and donating or allowing guests to take food remaining at the end of an event so no edible material goes to the landfill.  
Check out the Green Events Guide (link above) for tips and tricks on how to manage your events for maximum food recovery on campus.
---

Composting Programs 
---
Reducing Food Waste in Dining Services
Dining Services Composting and Food Recovery
Composting
Each year, Cornell Dining composts roughly 850 tons of food scraps by reclaiming materials in during food preparation and from consumers.  Cornell dining staff compost during food preparation in all kitchen facilities. 
Food Recovery
Cornell Dining regularly donates produce and dairy products to the Food Bank of the Southern Tier which services 7 counties in the region. Cornell Dining also works with the Food Recovery Network to donate prepared, perishable food to Loaves and Fishes and other food banks in the Finger Lakes Region.
For more information: Cornell Dining Sustainability Website
---
Trayless Dining
Trays cause consumers to take more food, which can lead to more food wasted. In addition to greatly reducing food waste, trayless dining saves water and energy and reduces the need for detergents that can be bad for the environment.
Cornell Dining began introducing trayless dining in 2008. (This 2009 New York Times article cites Cornell as an early campus adopter of the practice). 
Currently nine of the ten All You Care to Eat Dining Facilities practice trayless dining. 
Cornell Dining has participated in living laboratory research to help inform better food waste-reduction practices.  A 2015 study published in Public Health Nutrition using campus dining facilities found that trayless dining decreased the percentage of diners (average age 19.1 years) who took salad by 65.2%.