Climate Action Plan
The Climate Action Plan is Cornell's overarching plan for carbon neutrality for campus operations, the advancement of a living laboratory for climate research and teaching, and global solutions for a low-carbon future by 2035. 
We can make a difference by demonstrating scalable low-carbon solutions on campus, advancing climate literacy and research initiatives, and accelerating impact through collaborative partnerships locally and globally.  Our Climate Action Plan is the roadmap to achieving campus carbon neutrality by 2035 and creating a more just and secure future for our community, New York state, and the world. The Sustainable Cornell Council stewards the Climate Action Plan.
Climate Action Partners
Cornell is a member of several national and global partnerships to advance climate leadership. Learn more on our Partnerships page. 
Current Climate Action Plan Strategies & Key Actions
Cornell's CAP strategies and actions are informed by two decision-making frameworks, our quadruple-bottom-line sustainability framework (people, planet, prosperity and purpose) and a carbon reduction hierarchy (avoid, reduce, replace, then offset).
Explore the tabs below to find key actions identified for each carbon reduction strategy.
---
Green Development Actions
Alternative Transportation Actions
Steam to low-temperature hot water heat distribution conversion
Heat campus with renewable energy: Develop Earth Source Heat
Power campus with 100% renewable electricity
Optimize campus energy systems for renewables: peak heat and emergency power strategies
Carbon Sinks & Sequestration Actions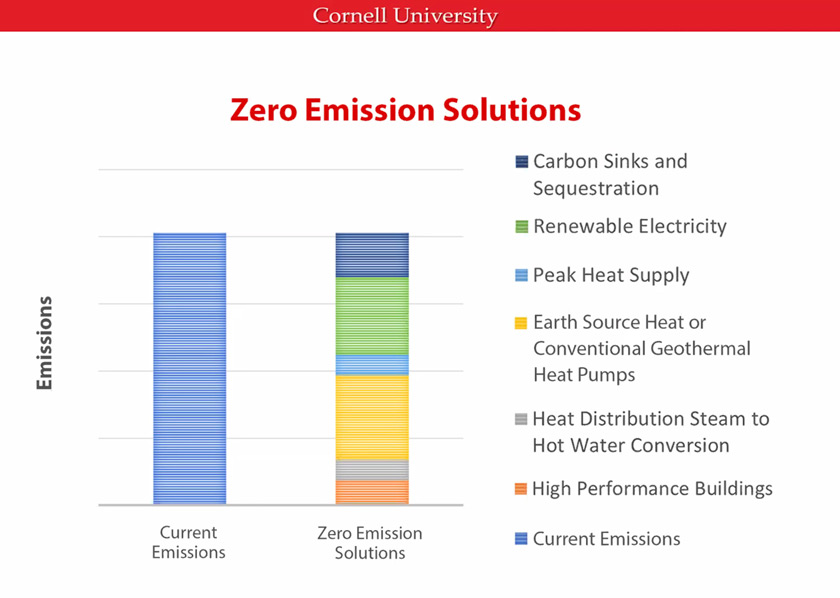 How can I get involved? The best way to support Cornell's progress to carbon neutrality is to read the reports, join a club or sustainability team, and look for ways to reduce emissions or improve sustainability where you live and work using the strategies outlined in our roadmap. 
The Ithaca campus Climate Action Plan is a "living document." Thus, the 2009 CAP is considered the basis document with new reports evolving and informing the strategy over time. This positions Cornell to leverage new technology and funding opportunities, and with flexibility to pivot as external regulatory, policy and market factors evolve. Some reports such as Options for a Carbon Neutral Campus have focused on creating plans or research implementation strategies for specific aspects of the CAP but have not substantially altered the initial strategy.
Original Climate Action Plan 2009 (PDF)
Published:  September 2009
After President Skorton committed the institution to carbon neutrality in 2007, the first comprehensive action plan was released in 2009. This includes basis documents, reports and analysis of options.