Dump & Run
In an effort to support social distancing efforts in response to COVID19, Cornell is suspending Dump & Run for the time being.
Welcome to Dump & Run, Cornell's annual community sale! On Saturday and Sunday of orientation week, Cornell and local communities gather to dig into goodies (clothes, kitchenware, furniture, cool Cornell gear, and more) left behind from the previous year.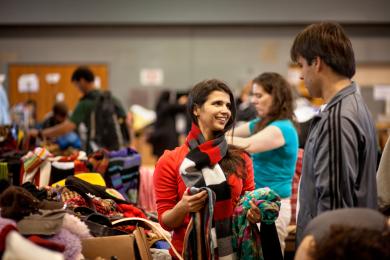 Student and staff volunteers collect items students might otherwise throw away when leaving campus in May, organize the collected items over the summer, and resell them when students return in August. Cornell donates proceeds from each Dump & Run sale to local nonprofit organizations. 
Please contact dumpandrun@cornell.edu and specify the day and time you would like to volunteer and the position you would like to take on.